News & Innovation
Life Science News
In our webshop you can find more than 3 Mio. products: Labware, Chemistry and LifeSciences. Find out about new Life Science brands and the latest products in the Chemie Brunschwig webshop!
Assay Genie
GeniePlex: Quantitative Multiplex Immunoassays
Quantitatively Measure 1-24 Analytes per Sample!
GeniePlex is a bead-based multiplex immunoassay technology. It enables the sample on almost any flow cytometer. It's like doing 24 different ELISA in every well!
Phenomenal Performance
Very Sensitive: Measure as low as <10 pg/ml of each analyte
Excellent Dynamic Range: Lower limit < 20 pg/mL | Upper limit > 5,000 pg/mL
High Precision & Accuracy: Intra-assay CV: < 10% | Inter-assay CV: < 20% | Recovery: 70-130%
Low Sample Volumes: Use as little as 15 μl of sample
Validated: All assays fully tested for cross-reactivity in our lab
Unbeatable Flexibility
Comprehensice choice of targets: Up to 400 assays & custom formats available for human, mouse, rat, porcine, canine and primates
Wide range of sample types: Cell culture supernatants, saliva, plasma, cell/tissue lysates, serum, BALF, pleural and peritoneal fluids & more
Mulitple formats: 32-well and 96-well sizes available
Convenience Redefined
Use your own lab: Assays can be run on most validated flow cytometers (PE & either PE-Cy5 or APC detectors
Free software: Analyse with commonly available software such as FCAP Software v3.0. Or, send us your data!
Customization: Can't find your analyte in our extensive list? Then just ask our team of experienced scientists
Multiplex Membrane Antibody Arrays
SIMPLE: Detects 7-274 targets simultaneously.
FLEXIBLE: Human, mouse, rat, bovine, canine, porcine, sheep, dolphin, equine and chicken arrays available.
SENSITIVE: Can detect as low as 1 pg/ml for certain proteins.
DYNAMIC: Detect as high as 4 orders of magnitude (104) for certain proteins.
____________________________________________________________________
Capricorn
a reliable source for cell culture products, covering the complete range for academic and industrial scales.
Advanced Media, A step into the right direction. Less Serum-Same Quality !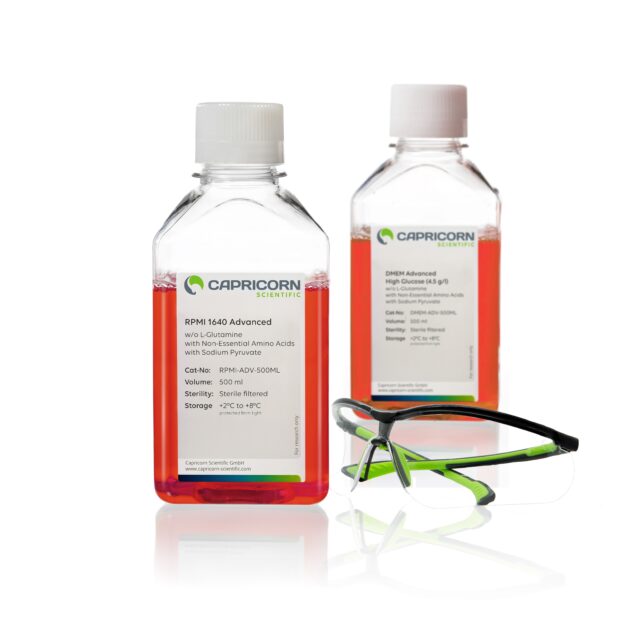 Researchers working with mammalian cell cultures, traditionally add 10 to 20% animal serum to standard media formulations in order to provide their cells with sufficient nutrients. They are most of the time helpless against the rising raw serum prices and must accept deteriorating conditions in animal farming. At Capricorn Scientific, they want to provide alternatives and are constantly looking for new cell culture innovations. In this way, they keep the known & qualified and make your experiments more defined, to take a step into the right direction. Unfortunately, eliminating serum content completely, often causes problems in many applications, as it leads to poorer growth characteristics and altered cell morphology. However, by optimizing the formulations, the serum content can be reduced considerably. They have implemented this in their improved formulations of the standard media DMEM and RPMI 1640.
DMEM & RPMI 1640 Advanced
The Media are based on the composition of the classic media DMEM and RPMI 1640, supplemented with high quality components such as insulin, transferrin and trace elements. This improved formulation reduces the dependence of your cells on the growth properties of the serum. As a result, your serum content can be drastically reduced, allowing for more defined experiments.
How to use these Advanced Media?


FBS Xtra, Fetal Bovine Serum (FBS), Collected in South America
For decades, fetal bovine serum (FBS) has been an established additive in cell culture media. Its unique growth-promoting properties make it a valuable and essential ingredient for the cultivation of a wide variety of cell types. FBS is a complex mixture of proteins, growth factors, and many other components. It has not yet been possible to produce a synthetical growth additive with comparable performance. Growing demand of serum with limited availability poses numerous animal welfare issues.
With an increasing awareness on this problem, many researchers state that they would like to use less serum – without sacrificing performance. In collaboration with the University of Applied Science Frankfurt, Capricorn Scientific developed an alternative to traditional FBS that is more controlled, defined, and less susceptible to the issues of serum supply.
FBS Xtra incorporates the key components for optimal cell growth making it possible to significantly reduce the serum content. The combination of these identified components and a lower serum concentration shows a positive influence on cell growth, morphology, and furthermore decreases cell stress while batch-to-batch variations are reduced to a minimum.
FBS Xtra is supplemented to cell culture media in the same concentration as your standard FBS (e.g., 90% medium with 10% FBS). The quality of Capricorn products starts with the sourcing of raw material, which is only purchased from qualified suppliers and subjected to strict quality controls. After manufacture, the product undergoes extensive testing and only batches that meet all quality criteria are released for sale. Standard tests include pH, osmolality, total protein, albumin, IgG, hemoglobin, endotoxin content, sterility, mycoplasma, virus testing, and cell culture performance.
Ask for your free sample and try it.
____________________________________________________________________
Cayman Chemicals
From 2022 we work closely with this supplier that offers a wide range of products for a lot of applications for Cell Biology, Biochemistry, Epigenetics etc… and more than probably for your experiments. As a consequence for you, prices are more attractive and delivery time is faster.


Let's talk shortly about their Fluorescent Probes
Achieve the versatility, sensitivity, and quantitative capabilities you need in your research with Cayman's diverse library of more than 400 fluorescent probes. They offer a range of probes to detect intracellular events, protein interactions, a host of enzyme substrates, and many other significant targets like:
Cell Viability, Cell Cycle, and Cell Proliferation
Protease Substrates
Cytoskeletal Proteins
Calcium
ROS, RNS, Oxidative Damage
RNA, DNA, Nucleic Acids
You can download the flyer dedicated on Fluorescent Probes to use this at-a-glance guide to select the most appropriate fluorochromes for your experiment.
____________________________________________________________________
New from Biotium
New EMBER500™ RNA Prestain, a one-step RNA stain for agarose gels.
Denature, load, track, and stain RNA samples in a single step on a regular agarose gel with new EMBER500™ RNA Prestain, the most convenient and sensitive RNA prestain available. Allows you to quickly verify your RNA is free from degradation and DNA contamination. Trial sizes available.
EMBER500™ RNA Prestain Loading Dye is a convenient reagent for single-step denaturing, staining, and loading of RNA for gel analysis. The loading dye contains EMBER500™, a bright and versatile fluorescent DNA and RNA binding dye with broad instrument compatibility. EMBER500™ prestaining gives much brighter signal and higher sensitivity than ethidium bromide prestaining.
The dye stains RNA and DNA, allowing the detection of contaminating genomic DNA in purified RNA samples.
The prestaining procedure is simpler, faster, and more sensitive than post-electrophoresis gel staining, and allows the use of a native agarose gel instead of a complicated and hazardous denaturing gel.
EMBER500™ staining can be imaged using a UV transilluminator with standard filters, and also is compatible with blue LED gel imagers, which eliminate UV exposure hazards.
The loading dye is supplied at 2X concentration. It contains formamide for denaturing RNA, and the electrophoresis tracking dyes bromophenol blue and xylene cyanol, which migrate in agarose gels at ~300 bp and ~3 kb respectively.
____________________________________________________________________
Serva
DNA Decon
Highly effective decontamination solution for removal of DNA and RNA contamination on surfaces, instruments and laboratory equipment. DNADecon is ideal for use in decontamination of PCR workplaces, because it completely destroys and removes DNA and RNA molecules from any surface. It can as well be used for decontamination of electrophoresis chambers, pipettes, reaction tubes etc.
DNADecon is ready-to-use, non-alkaline and non-carcinogenic. Supplied in a spray bottle (250 ml) or as refill (500 ml).
Product Cat.-No. Pack Size Price* (CHF) Order
DNADecon | SER39810.01 | 250ML | 52.40 |
DNADecon | SER39810.02 | 500ML | 69.80 |
* Prices are subject to variable conditions, ex works and excl. VAT
MycoDecon
Mycoplasma contamination is very common in cell culture. Unlike bacteria and fungi, it is extremely difficult to detect. Low mycoplasma levels may influence cell growth, metabolism and protein syn­thesis. If unnoticed, the contamination will result in change of pH and morphology of the infected cells. Finally, it will lead to cell death!
MycoDecon is a highly effective disinfectant against mycoplasma but also against bacteria, virus and fun­gi. Effective against e.g. Mycoplasma, Staphylococ­cus aureus, Strepococcus faecalis, Escherichia coli, Candida albicans, HBV/HIV, adenovirus.
Non-corrosive
Non-carcinogen
For disinfection of lab equipment and surfaces
Supplied in250 ml spray bottle, 500 ml refill pack available
Product Cat.-No. Pack Size Price* (CHF) Order
MycoDecon | SER34206.01 | 250ML | 66.70 |
MycoDecon | SER34206.02 | 500ML | 98.40 |
* Prices are subject to variable conditions, ex works and excl. VAT
____________________________________________________________________
Polyplus transfection
We would like to inform you that the catalog number of all the products has changed from January 2022.
The table below will show these changes.